ScooterPlus Products
in Atlanta

Scooter

Power Wheelchair

Manual Wheelchair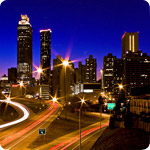 ScooterPlus Rentals is pleased to offer wheelchair and scooter rentals to travelers visiting Atlanta, Georgia. Rentals are also available to local residents.
Planning a trip to the Atlanta area, let ScooterPlus take care of your scooter, power wheelchair and manual wheelchair needs. We help thousands of travelers each year! Our staff members are trained to handle and answer all your questions. We can also help recommend an appropriate rental equipment to meet your needs. Our Atlanta location can handle delivery and pick up to your hotel or residence. We also provide rentals to businesses and convention centers.
Delivery & Pick up Service
To ensure a hassle and stress free visit, our scooter and wheelchair rental rates covers delivery and pick up to your hotel, residence or business. Just tell us where you need your scooter or wheelchair delivered and our staff will take care of the rest.
When Should I reserve my Scooter or Wheelchair
Planning a trip to Atlanta, GA, we recommended that you book your scooter rental or wheelchair rental a few days in advance. This gives you a piece of mind knowing that your scooter or wheelchair rental is fully reserved, available and ready upon arrival. As always, we will try to accommodate same day scooter or wheelchair rentals, but we highly discourage it. Why wait, book today!
| | |
| --- | --- |
| Where we deliver: | |
Cancellation
Cancel 48hrs prior to your rental due date and receive a full refund. No Hassle, simply call us and we will process your refund immediately. It is possible your plans can change on your rental date, protect yourself with our cancellation protection plan.
Transportation of my Device
Most of the scooters rented by ScooterPlus are easy to disassemble and can be easily transported to and from parks. Most shuttles, cabs in the Disney resort offer scooter and wheelchair accessible vehicles that can help make transporting your scooter or wheelchair easy.