ScooterPlus Products
in New York

Scooter

Power Wheelchair

Manual Wheelchair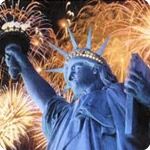 Scooterplus rental is pleased to offer wheelchair and scooter rentals to travelers visiting New York City. We cover Manhattan, Central Park, Brooklyn, Queens, Little Italy and many more. Our short term scooter and wheelchair rentals are designed to accommodate both tourist and residents of New York City. Our rental service affords you the opportunity of having your scooter or wheelchair delivered to your location and picked up at the end of your rental. To inquire about a scooter or wheelchair rental in New York or our wheelchair rentals please call us at 1-866-474-4356.
When should I reserve my Scooter or Wheelchair
Planning a trip to the New York area, we recommended that you book your scooter rental or wheelchair rental a few days in advance. This gives you a piece of mind knowing that your mobility device is fully reserved, available and ready upon your arrival. As always, we will try to accommodate same day scooter or wheelchair rentals, but we highly discourage it. Why wait, book today!
Wheelchair and scooters are rented as follows:
Daily Rentals
Weekly Rentals
Monthly Rentals
| | |
| --- | --- |
| Where we deliver: | |
Cancellation
Cancel 48hrs prior to your rental due date and receive a full refund. No Hassle, simply call us and we will process your refund immediately. It is possible your plans may change on your rental date, protect yourself with our cancellation protection plan. Learn more...
Transporting my Mobility Scooter
Most of the scooters we rent in the New York area can be easily disassembled to eliminate the burden of transporting the device from your hotel or residence to popular attractions in New York.